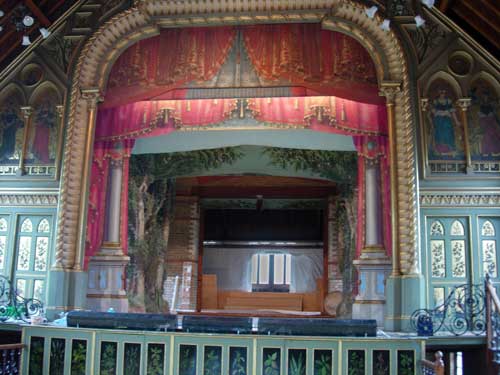 Theatre scenery is normally re-used, painting the next set over the previous one until the canvas and frames wear out. So the Normansfield Theatre is almost unique in possesing a large collection of original Victorian scenery. This is as a result of its unusual history which is related in full on the Langdon Down Centre Trust web site.
The fragile original scenery has been conserved in a museum in the building. The task was to re-create a new false proscenium arch and two complete sets so that the theatre could continue to be used for operas, charity musical events, drama productions and film and television work (Steven Poliakof plays, Marie Lloyd and Gracie Field TV biopics, Poirot television series, etc).
The old scenery would have been painted quickly. Recapturing the rapid styles of the different painters, imagining what some of the very worn painting would have looked like, and the original differently faded colours, and achieving an antique look in the new painting - these were among the various problems all of which I had to juggle together. There are more details about the job in two articles that I wrote for the Painter's Journal issues 19 and 22.